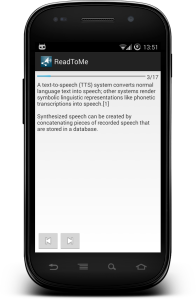 Android phones have a great TTS (Text-To-Speech) system built-in. Until Google launched their high-quality voices earlier this year, I didn't really see the point of using it. But after trying the new voices, I realized how much potential talking apps have.
ReadToMe is actually just a testing app I made to become familiar with the Text-To-Speech API. It doesn't have any options or anything. Just launch it, and it starts reading up whatever it finds on the device's clipboard. You can also share text to it from pretty much any app.
Thanks to the JSOUP library, you can even give ReadToMe a web address, and it will automatically download the website and start reading it out loud.
Want to try it? Download ReadToMe here. The app supports Android 2.2 (Froyo) and up. Getting a security warning? Allow apps from other sources than Google Play, then try again.